The Art of Decorating Eggs

Author:  Gabriella Szutor

Edition:   3rd

Format:   Large format softcover

Pages:  48          

Language:  English 

Illustrations:  Many color photos

Publisher:  Search Press Lt. (Tunbridge Wells, UK, 2004)

Availability:  Yes

Acquired:  Amazon

ISBN:  0 85532 865 7 and 9 780855 328658

This is not a book about pysanky, and doesn't even mention the word.  It is an introduction to many different forms of egg decoration.  Pysanky, here called "batik eggs" are described, and delrin styluses (here called "tjanting") are used to demonstrate.

This is a lovely but not indispensable book.  It gives clear, easy to understand directions for the decoration of eggs by many different means.  This is the Table of Contents: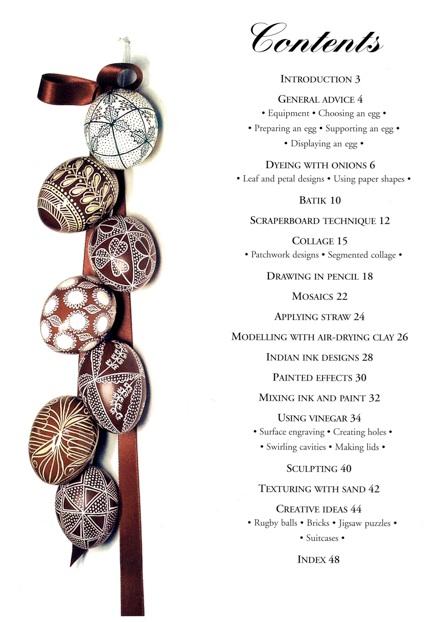 Of particular interest to the Slavic handcrafts enthusiast are the sections on Pace eggs ("lystovky," here described under "Dyeing with Onions") and nakleyanky made with straw ("Applying straw").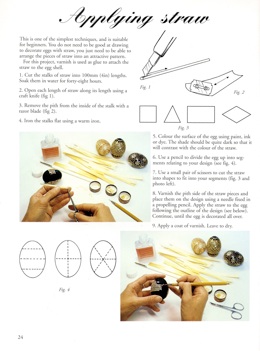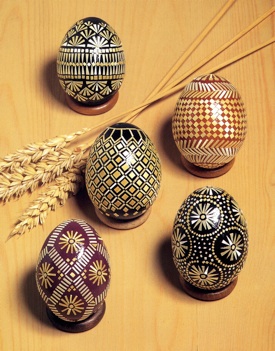 There are also instructions for a version of dryapanky ("Scraperboard technique") and etched eggs ("Using vinegar"). The pysanky that Szutor demonstrates ("Batik") are interesting because of her very limited palette of colors––she uses brown chicken eggs, and black and brown hued dyes (see Table of Contents illustration above).

There are a host of other egg decoration techniques that are explored––mosaic, India ink, pencil drawing, painting and collage.  These techniques are not for small children, but older children and adults would enjoy many, if not most.

Back to MAIN Pysanka Books home page.

Back to MAIN Books home page.

Back to Pysanka Bibliography.