PYSANKA: Ukrainian Easter Egg

How to Paint Wooden Eggs

Director: Svitlana Borysenko

Artist:  Анна Вахняк (Anna Vakhnyak)

Edition: 1st

Format: DVD

Length: 28 minutes           

Language:  Ukrainian (with English subtitles)

Publisher:  UkrWest, Ltd. (Toronto, Canada,  2009)

Availability: Yes

Acquired: from director

When I received a copy of this DVD, I put off watching it for several days.  It just didn't sound that interesting–watching a woman paint a wooden egg.  And for 28 minutes!

To my surprise, I quite enjoyed the film, and the time just flew by.  It is well filmed and well edited. The artist, Anna Vakhnyak, is quite sweet and engaging. There's lots of lively Hutsul music and scenery, and you quickly become fascinated by the artistic process. Vakhnyak, an artisan of national stature, demonstrates the process step-by-step, all while chatting with us.  It's all very informal and entertaining.

Vakhnyak starts with plain wooden eggs that have been painted white, and draws on her basic design.  She then paints in the colored areas–yellow, orange, red and green–with larger brushes, and paints in the black outlines with fine brush. 

The final product is a lovely wooden malyovanka combining aspects of traditional Hutsul pottery (white background) and pysanky (motifs and color scheme).

This DVD is a nice way to spend half an hour.  While the process is interesting, I doubt I'll be taking up this particular craft any time soon.

The advertising poster for this film has some stills from the movie: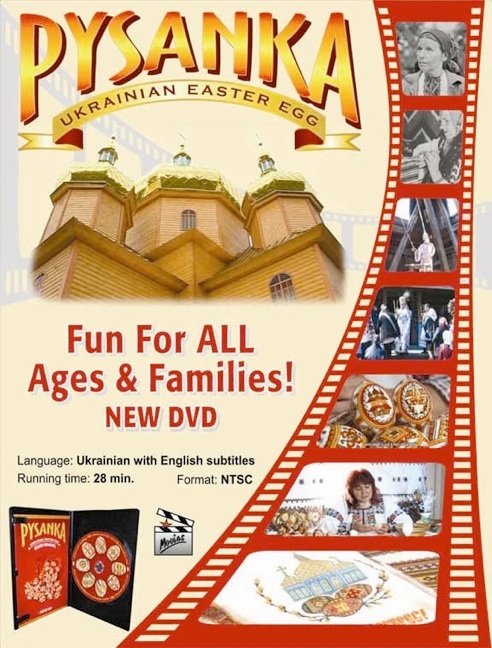 And below is the back of the DVD case, with more information: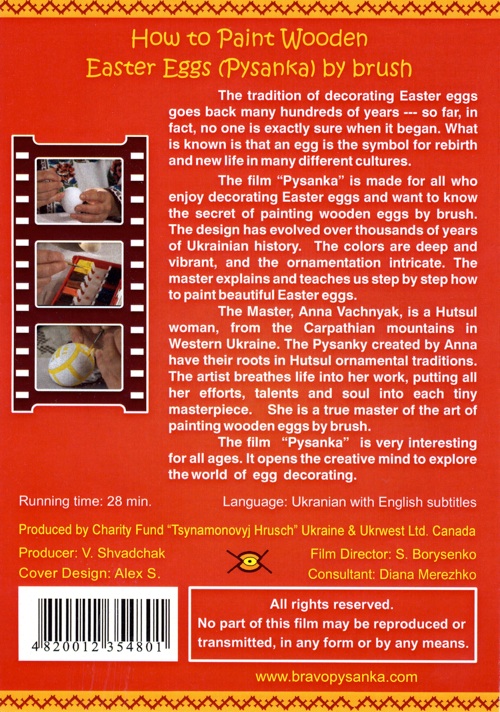 Back to MAIN Multimedia home page.

Back to MAIN Books home page.

Back to Pysanka Bibliography.