Kepka's Egg Lap-Studio & Batiking Method

for Making Czechoslovakian Kraslice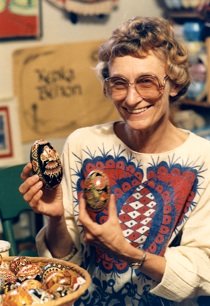 Author:  Kepka Belton

Edition:   1st

Format:  Small softcover

Pages:  24          

Language:  English

Illustrations:  Color and BW photos

Publisher:  Kancen Printing (Salina, Kansas; 1984)

Availability:   Out of print

Acquired:  gift

ISBN:  N/A

Kepka Belton was born Betty Rose Vanek in 1934 on a farm near Wilson, Kansas. Her family were immigrants from a Czech town north of Prague. She learned how to make Czech kraslice, Czech decorated Easter eggs as a young girl, and continued her interest throughout her life.

She wrote this little booklet to show people her techniques of drop pull using a "lap desk." She inserts a bent spoon into a potato to create a wax reservoir, and uses an alcohol lamp as a heat source.

While Kepka's techniques may be traditional to some extent, her designs are not.  They appear to be purely disaporan, especially when she does linear batik (in the photo on the right, above).

Back to MAIN Slavic Books home page.

Back to MAIN Books home page.

Back to Pysanka Bibliography.