The Signature of Spring

Author: Rev. Czesław M. Krysa

Format:  Trifold pamphlet

Pages:  6         

Language:  English

Illustrations: Color and B&W

Publisher:  CWB Press (Lewiston, NY, 2003)

Availability:  Polish Art Center

Acquired: PAC

This pamphlet is packaged with a small paperback booklet called "The Signature of Spring" (Special Blessings of a Polish Easter), which is a compendium of Polish Easter traditions, foods, customs, games and prayers.

The pamphlet is very basic, and does not have much in the way of technique (except in a vague descriptive manner), and some very basic symbolism.  There is some interesting history and archeology, but I feel there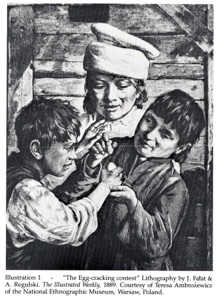 may be errors in the section about "Spring Games."  The author talks about rolling pisanki or playing games with pisanki (e.g. "cracking contest," right).  I find this unlikely, as pisanki were generally raw eggs; kraszanki, like our American Easter eggs, were cooked and dyed a single color. Many recent Ukrainian authors have made similar errors in their writings, due to a suppression of customs during Soviet times. Then again, the term "pisanki" has lost much of its meaning in modern times, often being used as a generic term for any decorated eggs, real or not.

I bought the book for the pictures – there are some lovely traditional pisanki that I hope to copy.  When I do, you'll find them on these pages.

I am still looking for a pisanka book that would be the Polish equivalent of Vira Manko's "Ukrainian Folk Pysanka."  I haven't found it yet.

Back to MAIN Slavic Books home page.

Back to MAIN Books home page.

Back to Pysanka Bibliography.