The Art of Decorating

Wendish Easter Eggs

Author:  Daphne Dalton Garrett

Edition:  4th

Format:  paperback booklet

Pages:  32        

Language:  English

Illustrations:  B&W drawings

Publisher:  Garrett Historical Research (Warda, Texas,  2002)

Availability: unknown

Acquired:  from Garrett Historical Research

ISBN:  87-403586

This is an enjoyable book that screams 1960s.  There are photos of people in traditional Polish dress working on pisanki in their modern American kitchens, cute bunnies, postcards of folk costumes, a few

Polish Easter cards, drawing of pisanki, profiles of several pisanki makers and several sets of instructions. It is fun to look through, and I managed to pick up a pointer or two.

This book discusses the techniques of (and has patterns for) not just traditional batik pisanki, but also for wycianki (appliqued cut-paper designs) and  malowanki (painted eggs). There is also a bit of discussion of kraszanki (dyed eggs) and skrobanki (scratch eggs).

I found the section on Polish eggshell ornaments interesting.  The best known are the wydmuszki, the egg pitchers, but ornaments are also made in the shapes of fish or birds.  They are quite popular in Poland, and are often used to decorate Christmas trees.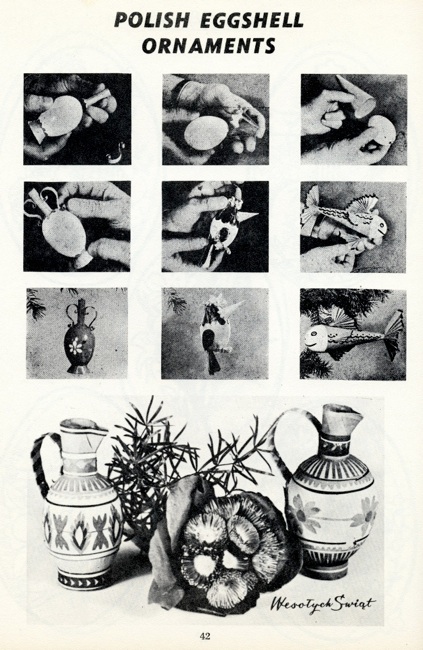 Back to MAIN Slavic Books home page.

Back to MAIN Books home page.

Back to Pysanka Bibliography.