Decorating Ostrich Eggs the Ukrainian Way

Author: Natalie Perchyshyn

Edition:  2nd

Format:  Paperback booklet

Pages:  30          

Language:  English

Illustrations: BW, color photo on cover

Publisher:  Ukrainian Gift Shop  (Minneapolis, 1998)

Availability:  UGS

Acquired:  UGS

This is a useful little book for anyone who wishes to make an ostrich egg pysanka.  It goes through all the basics of making an ostrich egg pysanka (selecting the egg, dye preparation, preparing the egg, selecting a design, making the pysanka, removing the wax, varnishing the egg), and includes three detailed step-by-step patterns.

It's not really a book for beginners – you should have made several chicken egg pysanky and, probably, goose egg pysanky before attempting to tackle an ostrich egg. 

The patterns are good and well drawn, but date back to before the UGS began using modern computer technology to make multicolored patterns.  One has to pay close attention to distinguish the changes between the different color stages.  (In their newer books, each new color/stage is shown in gray, previous work in black.)

One thing that I really appreciate about this book, and UGS books in general, is that they help break down complex patterns into their simpler constituents, and show how to plot designs.  (I've done something similar with my "How to Draw a Star" page.)  I have found this very useful, as it usually answers the question "how on earth did they do that?"

It's a handy little book, and some day I may use it to decorate the ostrich eggs given to me by friends (Christobel and Tom) and relatives (Laurie A)......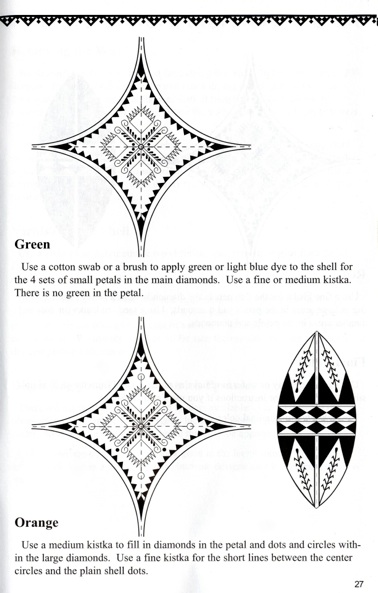 A sample page from this book.  Here you can see the green and orange steps of a pysanka

(detail of a repeating pattern)

Back to MAIN UGS Books home page.

Back to MAIN Books home page.

Back to Pysanka Bibliography.