Писанки Черкащини

(Pysanky of Cherkashchyna)

Author: Вадим Мицик, Олесь Фисун (illustrator)

Format: softcover

Pages:   60         

Language:  Ukrainian

Illustrations:  24 color plates (208 pysanky)

Publisher:  Rodovid  (Kyiv, 1992)

Availability: Rodovid

Acquired: Kyiv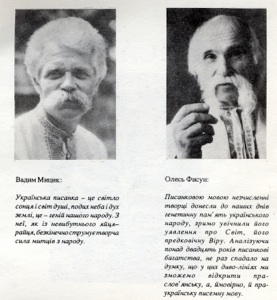 Taras Shevchenko, Ukraine's best known poet, wrote:

        Село, і серце одпочине,

        Село на наші Україні,

        Неначе писанка село...

Which translates to:

        A village, and the heart is at peace,

        a village in our Ukraine,

        a village like a pysanka...

The pysanky in this book are the pysanky Shevchenko would have known, from his native Cherkashchyna. Vadym Mytsuk (left) has collected pysanky from various regions throughout the area, and written the text of this book; Oles' Fysun (right) has turned that collection of pysanky into a series of nicely painted color plates. 

This is a lovely little gem of a book; I've enjoyed perusing it, and re-creating the pysanky shown on its pages.  The pysanky are divided up by "raiony" (regions, but actually administrative districts similar to our counties) of origin.  An appendix in the back gives he names of the pysankary (if known) and some of their biographical details, as well as names/symbols of the various pysanky.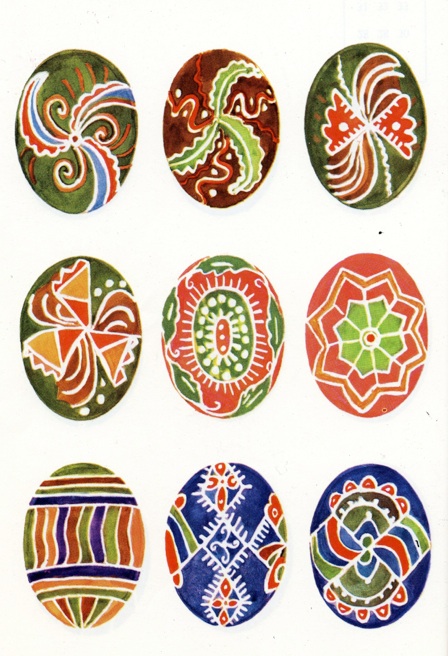 A sample plate (XXII. Тальнівський район / Tal'nivs'kiy raion)

One thing that is not addressed is the techniques used to create these pysanky.  The dyes used may have been either natural or synthetic (aniline), but this is not addressed.  The color schemes on some eggs are very difficult to recreate (and I have recreated them all), leading me to believe that some may have been mixed media–a combination of pysanka (wax resist) and malyovanka (ink or paint) techniques. Such a discussion would have been a valuable addition to this book.

You can read Orysia Paszczak Tracz's review of this wonderful little book in the Ukrainian Weekly here.

This is a book well worth having, and quite inexpensive. Rodovid, the publisher, is still selling copies for $8.00 (plus shipping; see link above). It should have a place in the library of anyone who enjoys traditional pysanky.  Buy one before they're all gone!

Back to MAIN Писанка Books home page.

Back to MAIN Books home page.

Back to Pysanka Bibliography.