Писанки Ганни Косів: Трипільські мотиви

Pysanky of Hanna Kosiv: Trypillian Motifs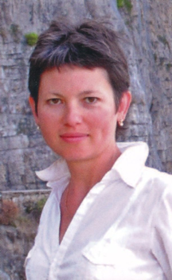 Author
:
Ганна Косів (Hanna Kosiv)

Edition:  1st

Format:  small format hardcover

Pages:  100           

Language:  Ukrainian/English (bilingual)

Illustrations:  many color photos

Publisher:  Свічадо (Lviv, 2016)

Availability:  yes

Acquired:  bookstore, Lviv

ISBN:  978-966-395-945-0

This small album documents the work of pysankarka Hanna Kosiv.  It is a small album with photos of her pysanky, interspersed with short pieces of praise for her work from friends, family members and fellow artists.  Is it an essential or important work?  No, not by any means.  But it is a lovely little book, nice to look at and easy to enjoy.

Hanna is a translator by profession, but has been fascinated by pysanky since childhood.  She wrote this set of pysanky, using "Trypillian" motifs, over a period of eight months. They have been grouped by style and theme, and beautifully photographed.

Few of them would fit our Diasporan preconceptions of what "Trypillian" should be.  In North America we have become accustomed to seeing the modern (20th century) Trypillian vases and other pottery, in terra cotta, black and white, and assume that these are accurate reproductions.  Trypillian pottery, which was created over several millennia, was produced quite differently, and with various combinations of those colors. We are also used to seeing "Trypillian" pysanky that reproduce this modern conceit of pottery on eggs.

Kosiv does not stick to these modern conventions.  She uses Trypillian motifs as her inspiration, and plays with color.  Anyone hoping for a book of "Trypillian pysanka" designs will be sorely disappointed.  The closest she comes to this is in the very first set of pysanky she shares: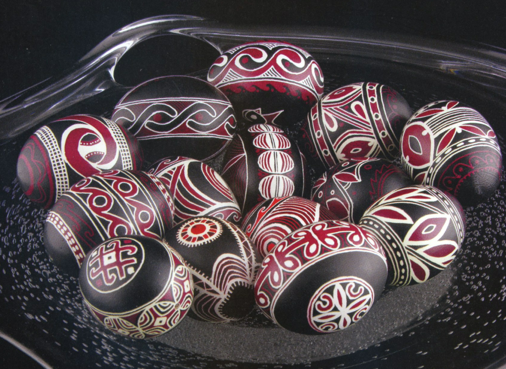 An artistic grouping such as this is followed by rather sparse pages of photos of individual eggs, as in this case: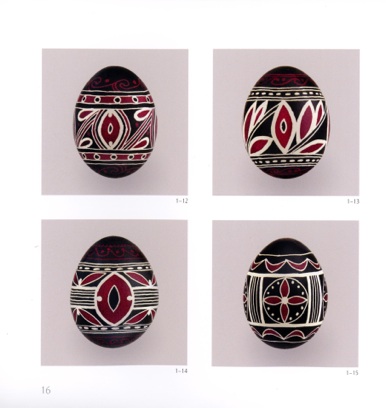 Many of her pysanky use fairly accurate Trypillian motifs, like the pysanky on the cover (top of this page). She incorporates animal motifs, paralleled lines, waves and curves. Others, though, are much more "avtorski," original artistic expressions which use Trypillian motifs as inspiration. Her set of pysanky depicting trees using simple line art are among my favorites: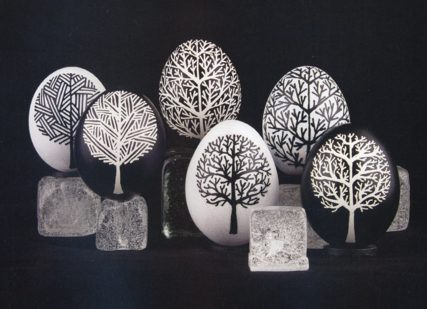 Some of her more interesting pysanky also incorporate the use of dots–lots and lots of them: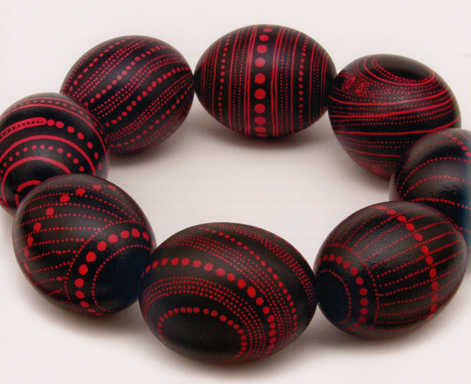 All in all, this is a lovely little book.  It is not an essential work, by any means, but one well worth owning simply for the sheer joy and beauty of the works inside.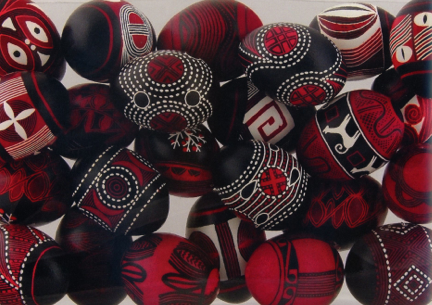 Back to MAIN Писанка Books home page.

Back to MAIN Books home page.

Back to Pysanka Bibliography.