Світ Української Писанки

(The World of the Ukrainian Pysanka)

Author
:  Сергій Сітко (Serhiy Sitko, editor)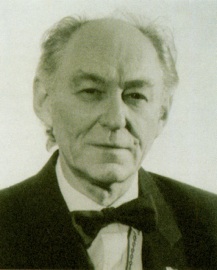 Edition:  1st

Format:  Paperback

Pages:  96          

Language:  Ukrainian

Illustrations:  Yes, Photos and many color plates

Publisher:  Kondor  (Kyiv, 2005)

Availability:  Yes

Acquired:  Yevshan

ISBN:  966-351-018-8

If nothing else, this book should win the award for the ugliest pysanka book cover ever!  You should mind your aphorisms, though, as the book inside is quite nice, with a set of excellent plates (albeit printed on barely adequate paper stock).

There are two main sections to this book.  The first is a biography, by L. Atlantova, of Erast Binyashevsky himself (photo right).  It is entitled "Scholar, Collector, Benefactor," and is thirty eight pages on the life of Binyashevsky (with photos).

The rest of the book appears to be a reprint of his 1968 work "Ukrainian Pysanky,"  with some added material.  After Binyashevsky's death, a suitcase full of watercolors was discovered in his flat1, with many previously unpublished depictions of traditional pysanky from throughout Ukraine.  Many of these pysanky have been included in this book2. 

This book includes twelve pages of reprinted text, the first eight by Binyashevsky alone, on the theme of the Ukrainian pysanka, and then a few pages written with Tayisia Rusanova on the theme of pysanka ornamentation (including Binyashevsky's classic illustration of the various divisions of the pysanka3).  Shown here is his depiction of various meanders: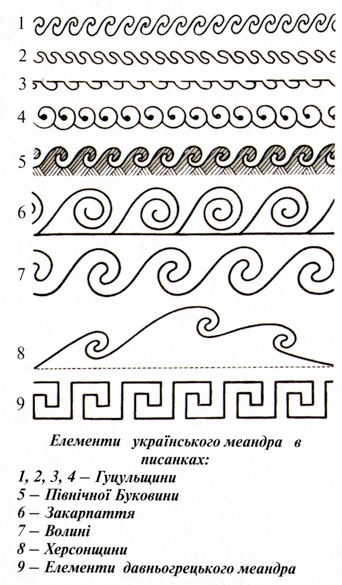 Elements of the Ukrainian meander found on pysanky

The rest of the book is thirty seven pages of illustrations, including Binyashevsky's well-known watercolors of traditional pysanky, divided up by ethnographic region and interspersed with photos of various folk art objects: embroideries, costumes, ceramic plates, house interiors, buildings, etc.  There are many pysanky in this book that were not included in Binyashevsky's book.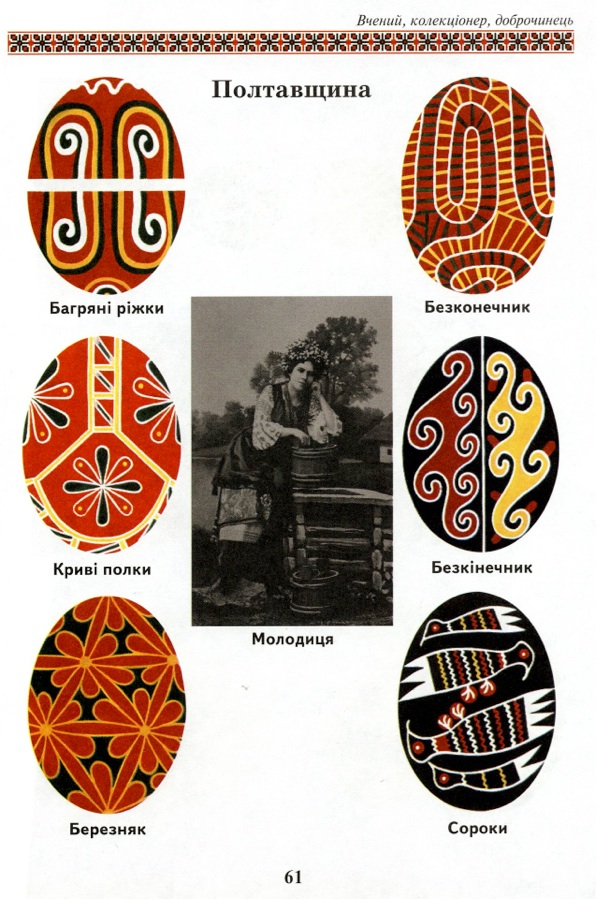 Traditional pysanky and costume of the Poltava region

It is a nice little book, and well-worth reading and having. Having these additional traditional pysanka designs is well worth the price of this book.  

___________

1.The story is that a man found a small suitcase on the street, part in a pile of garbage, the contents of a dead man's apartment that had been thrown to the curb.  Upon opening it, he found Binyashevsky's original watercolors.  Realizing their worth, he took them to a museum, and they were thus preserved for future generations.


2.Others can be found in other publications, including "Україна, Нене Моя," a book of Ukrainian poetry published in 1993.

Back to MAIN Писанка Books home page.

Back to MAIN Books home page.

Back to Pysanka Bibliography.