Українські Писанки

Ukrainian Pysanky

Author: Галина Шопа (Halyna Shopa, editor)

Edition:  1st

Format:  Paperback

Pages:  10 (one-sided)          

Language:  Ukrainian

Illustrations:  Color illustrations

Publisher:  СП «Євросвіт» (Lviv, Ukraine, 2007)

Availability:  Yes (phworld@franko.lviv.ua)

Acquired: Bookstore, Lviv

ISBN:  978-966-8364-09-9

Although this looks like a high quality children's picture book on first glance, it is actually an activity book.  The pages inside are heavy gauge, glossy paper printed with Easter-themed objects–pysanky, lambs, bees, chicks, bunnies–to cut out and make into a mobile.  You can see an example of the pysanky and instructions for making the mobile here: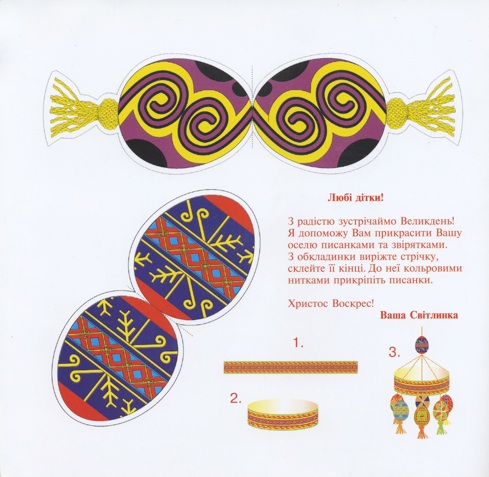 The book appears to be part of a series called "Svitlynka."    It is named after the strange-looking girl on the front cover, who is meant to be a little sun.

Back to MAIN Children's Books home page.

Back to MAIN Books home page.

Back to Pysanka Bibliography.