Казка Про Чарівні Писанки

The Tale of the Enchanted Pysanky

Author:  Зеновія Юськів (Zenoviya Yuskiv)

Illustrator: Зеновія Юськів (Zenoviya Yuskiv) 

Edition: 1st

Format: Coloring book

Pages:  12          

Language:  Ukrainian

Illustrations:  BW drawings

Publisher:  «Навчальна Книга – Богдан» (Тернопіль, 2007)

Availability:  Yes

Acquired:  Toronto

ISBN:  978-966-408-170-9

This cute little book is a coloring book that tells the story.  It is a very Ukrainian story, peopled with a Dyid and Baba (grandfather and grandmother) and a host of village animals: a chicken, a cat, a dog, a goat, a pig, and a cow.  The chicken lays magical eggs–pysanky–and anyone who holds them becomes immediately happy. Everyone, animals included, is wearing Ukrainian costumes.

It is a sweet story, with lots of lovely pages to color, both characters and pysanky.  Based on the drawings, this book would be intended for children with fine motor skills, (older elementary school).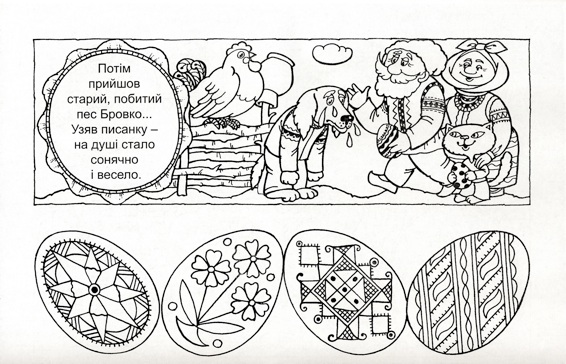 Sample page

Back to MAIN Children's Books home page.

Back to MAIN Books home page.

Back to Pysanka Bibliography.