Великдень

Easter

Author:  Світлана І. Якименко  (Svitlana .I. Yakymenko)

Edition:  1st

Format:  Pamphlet

Pages:  16 (including covers)          

Language:  Ukrainian

Illustrations:  Many, color

Publisher: «Місіонер» (Zhovkva, Ukraine, 2003)

Availability:  Unknown  (www.bohdan-books.com)

Acquired:  Bookstore "Bukva" (Lviv)

ISBN:  966-692-145-6

This is  pleasant little Easter activity book for children.  It has a few stories, a couple of poems, and several Easter activities to do. It also has, as do many Eater or pysanka-themed books, several of Binyashevsky's pysanky––page 2 and the back cover give examples of pysanky from around Ukraine.

The booklet begins with a poem and a short explanation of Palm Sunday (or, as it's known in Ukraine, "Pussy Willow Sunday). Next there is a story, poem and short explanation of pysanky.  Last there are several colorful activity pages:  a word puzzle ("Basket of Easter Words"), Easter cards to make, directions for creating a paper chicken and a paper basket for pysanky (below), an Easter branch to decorate, and a few examples of non-folk pysanky.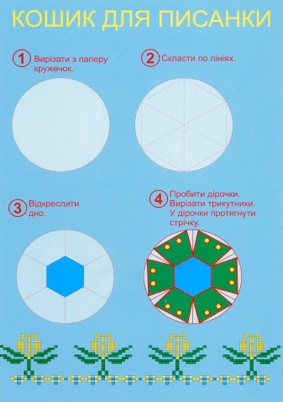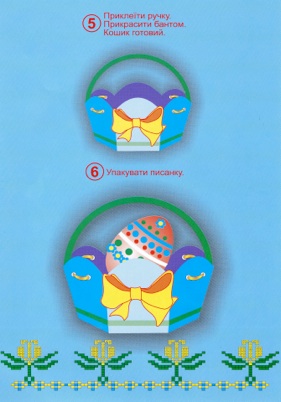 It's a nice little book for any Ukrainian child, and reminds a bit of the activity books I used to enjoy when I was a child.

Back to MAIN Children's Books home page.

Back to MAIN Books home page.

Back to Pysanka Bibliography.