Ukrainian Arts

Author: Dmytriw, Olya

Edition:  2nd

Format:  Hardcover

Pages:  217          

Language:  English

Illustrations:  Yes, color and BW plates, some drawings

Publisher:  Ukrainian Youth's League of North America (NY, 1955)

Availability:  limited (used book sellers)

Acquired:  Artis Books (Calumet, MI)

ASIN:  B000FHAFIU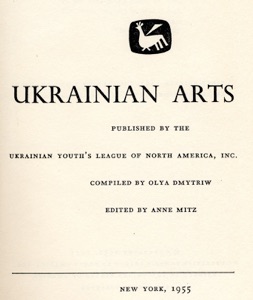 This book, long out of print, is a small gem.  The first edition came out in 1952, and introduced the West to the many aspects of Ukrainian folk and fine art.  The first edition had a run of 2000 copies; the second, 5000.

I was lucky enough to come upon a used copy in very good condition at a small used book store in the Upper Peninsula of Michigan.  Copies are still floating around, and can be found (sometimes for reasonable prices) through Amazon and eBay.

The motive for the publication of this book, according to the dust jacket, was two pronged:

"First, to record various facets of a rich, vigorous culture now being threatened with extermination by harsh, alien influences; and second, to depict a segment of European culture which is enriching he intellectual and artistic life of America through cultural contributions from the Ukrainian-American community."

The book is compilation or articles by Ukrainian and American scholars; chapter include:

            Folk Dress

            Embroidery

            Wood Carving

            Ceramics

            Kilim

            Easter Eggs

            Fine Art

            Architecture

            Music

            Literature

The various chapters are well written and interesting.  The chapter on "Ukrainian Easter Eggs" was written by Yara Surmach (here called Gloria* Surmach); it was later reprinted as a booklet and is still being sold by her family's shop, Surma in New York. 

Not included in the later reprinted booklet were these two wonderful plates of diasporan pysanky: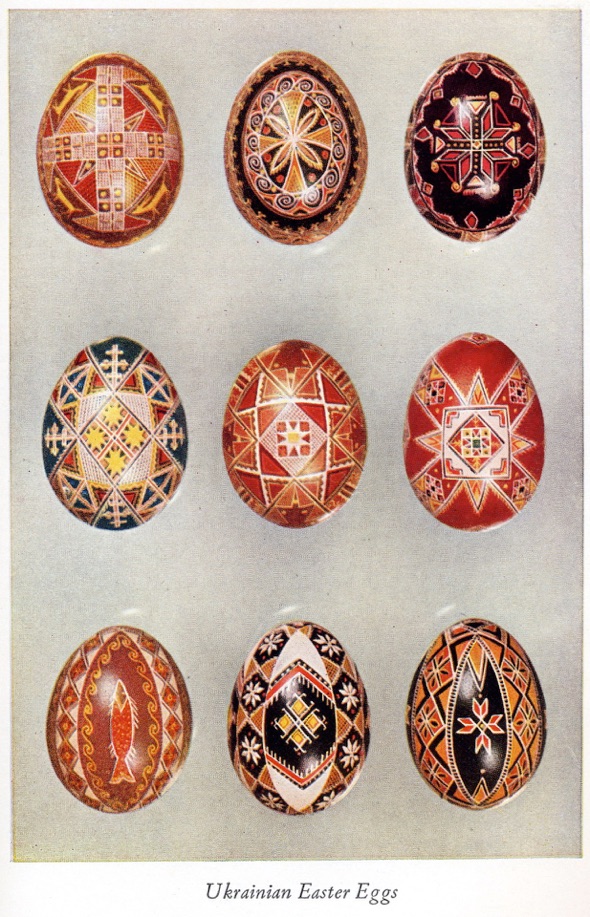 It is a good book, a nice primer, and well worth buying if you come across a reasonably priced copy.

_____

*  I learned from Yara Surmach's nephew that she was named Gloria when she was born, and changed her name to Yaroslava (Yara) later in life, when she became interested in Ukrainian and Slavic ethnography.

Back to MAIN Pysanka Books home page.

Back to MAIN Books home page.

Back to Pysanka Bibliography.