Pysanky: Herkunft und Bedeutung der ukrainischen Ostereier
Pysanka: The Origins and Meaning of Ukrainian Easter Eggs


Author:  Sr. Veronica

Edition:  1st

Format:  Hardcover

Pages:  78         

Language:  German

Illustrations:  Many, color photos and B/W

Publisher:  Verlag Paul Haupt (Berne and Stuttgart, 1982)

Availability:  Out of print

Acquired:  From the author

ISBN:  3-258-03114-2

I can't read, write or speak German, so I can't tell you very much about the text of this book.  I heard about it from a colleague, who had seen a woman selling copies at a craft show in Canada.  I called the woman and bought a copy from her.

(As I learned much later, the woman who wrote the pysanky and the book is a former nun from Germany, of the Studdite order.  Her ihumen was a Ukrainian nun, Sister Daria, who taught her to write pysanky.)

This is a book about traditional Ukrainian pysanky; while the cover may be unexciting, the photos inside are quite exciting. In the first section, customs are discussed, and there are black and white photos of simple pysanky with basic motifs from Shcherbakivsky: tripods swastikas, roses, crosses. The pysanky are arranged into the shapes they represent.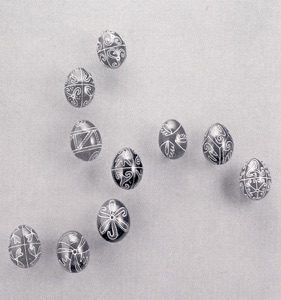 Tripod themed pysanky in a tripod shape

There is a section on symbolism, followed by a discussion of Easter celebrations. The rest of the book has lovely color photos.  First there are pysanky from museum collections (recreations, I assume) and books, in sets of six, like on the postcards of the period.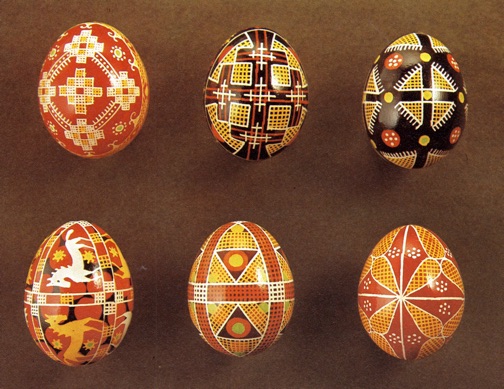 From the book "Ukrainian Culture," published 1949 in Augsburg

The rest of the book is lovely photos of pysanky divided by ethnographic region of origin.  They are beautifully displayed in bowls and baskets.


Pysanky from Vinnytsya, in Eastern Podillya

It's a book worth owning for the photos alone.

Back to MAIN Pysanka Books home page.

Back to MAIN Books home page.

Back to Pysanka Bibliography.