Сестра Дарія: Життя і Творчість

Sister Daria: Her Life and Works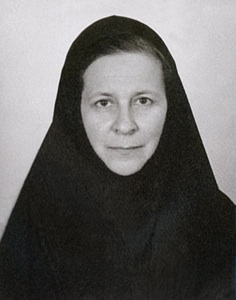 Author
:
Васіяна Гладка (Vasiana Hladka)

Edition:  1st

Format:  small format hardcover

Pages:  136          

Language:  Ukrainian

Illustrations:  many color photos

Publisher:  Колесо (Lviv, Ukraine, 2015)

Availability:  limited

Acquired:  from monastery gift shop

ISBN:  978-966-2527-24-7

Sister Daria (Daria Dublіаnytsia) was a Studdite nun who was born in Ukraine (then under Polish rule) in 1927, in Peremyshl, to a patriotic Ukrainian family.  She was a twin girl in a family of girls. When war came, her family became refugees, DPs (displaced persons), spending time in Poland, Germany, Austria and finally ending up in Nottingham, England in 1944. She sang with her sisters in a musical trio, embroidered, wrote pysanky. In 1953 her family emigrated to Canada, where she continued her Ukrainian cultural activities.

In 1967, inspired by a visit by Josef Slipyj, she became drawn to the religious life. She studied in Rome, and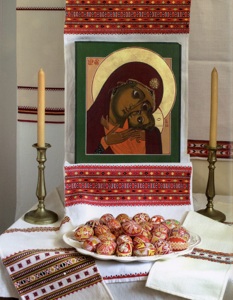 took religious orders in 1971, as a Studdite nun.  She was sent to Germany, to Krefeld Traar, where she became the ihumen of a women's monastery.

Daria, besides her spiritual interests, also had her folk art interests.  She embroidered, wrote pysanky, sewed liturgical robes, created icons (left). She taught a fellow nun, sister Veronica, to write pysanky, too, and together they wrote many thousands, selling them to help raise money for the monastery.

In 1981 Daria and Veronica were transferred to Canada, to start a women's monastery there, which they did, successfully.  In 1989 she was diagnosed with cancer, and underwent surgery; in 1993 she died, never having returned to her homeland of Ukraine.

Her order, however, did return to Ukraine, and to Lviv.  They brought with them her collection of pysanky, embroideries, icons, and books, which are now housed in a small museum in her honor (below).  They reckon that she wrote some 54,000 pysanky during her life; some 200 are in the National Museum in Lviv, and another 1600 remain in the monastery. The rest were sold to raise money for the order.  The current nuns point out that Sister Daria and her pysanky are largely responsible for the restoration of their current beautiful monastery in Lviv.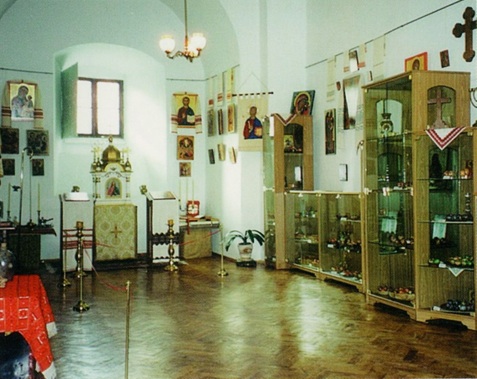 This book documents her life and her works.  The first section of the book is biographical.  The second is a large section of photos of her embroideries.  The third is of photos of her pysanky, arranged by Vira Manko into general ethnographic regions. There are 51 pages of her pysanky, with up to 25 pysanky per page.  This is the first such page, of pysanky from the western regions of Ukraine: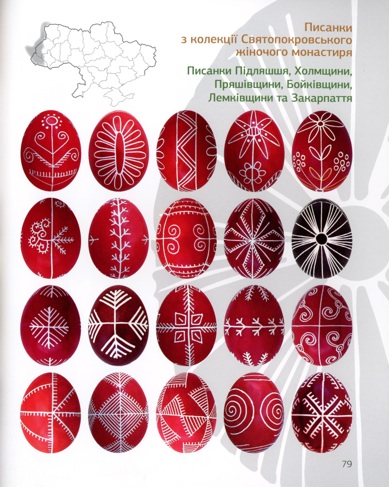 The pysanky on this page are Hutsul pysanky from the Carpathian mountains, with mostly horse motifs.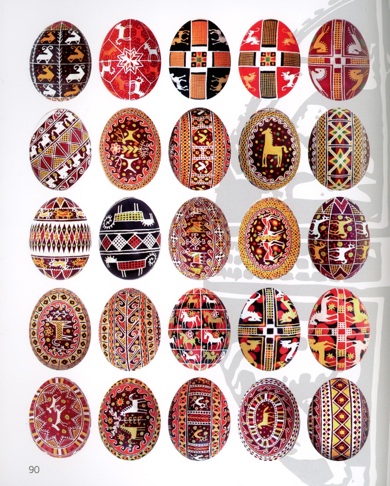 The pysanky on this page are from the Central Podniprovia region, and are quite colorful and floral: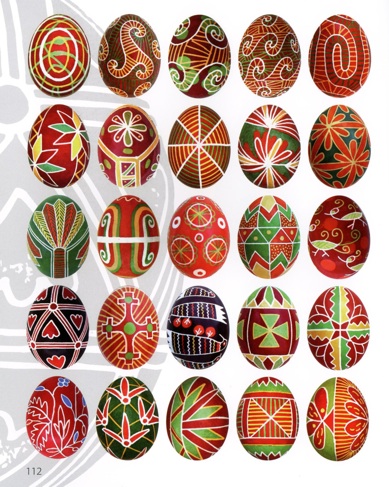 This is a lovely and remarkable book, and well worth a place on any pysankarka's bookshelf.

Back to MAIN Писанка Books home page.

Back to MAIN Books home page.

Back to Pysanka Bibliography.