Писанки Катеринославщини

Pysanky of Katerynoslavshchyna

Author:  Юлія Датченко

Edition:  1st

Format:  small paperback

Pages:   48         

Language:  Ukrainian

Illustrations:  Many color photos

Publisher:  Ґерда/Gerda (Dnipropetrovsk, Ukraine, 2011)

Availability:  UkraineArt

Acquired:  Lviv bookstore

ISBN:  978-966-8856-46-4

Katerynoslav is the old name of Dnipropetrovsk, Ukraine's fourth largest city (which, by the way, has now been renamed Dnipro). Katerynslavshchyna is the region around the city.

This booklet is quite small, and not just in length–it's also only about 6 x 6 inches in size. It packs in a good bit of information: there is a chapter on the ethnography and ethnographers of pysankarstvo in the region, with photos of seven classic pysanky.  It is followed by a short "how to" chapter on writing pysanky.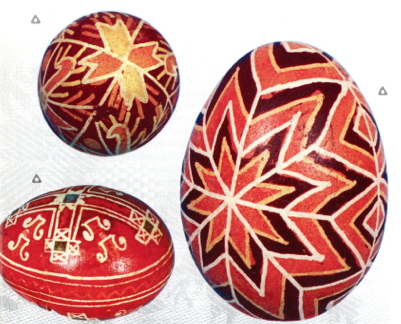 The rest of the book is comprised of the author discussing and recreating fifteen named pysanky from the collection of the D. I. Yavorynskyi National Historic Museum of Dnipropetrovsk. These pysanky have been recreated from whole pysanky and the shards of pysanky in the collection. Unfortunately, several of these pysanky are only shown in black and white.  This pysanka, "Peony,"" is shown in color: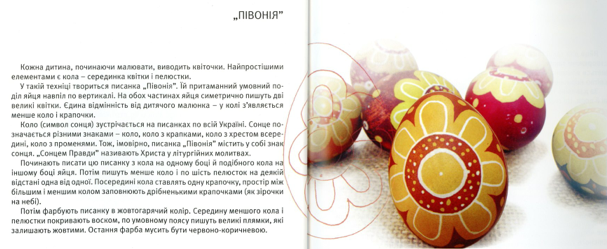 This pysanka, shown in black and white, is one recreated from pieces of an eggshell: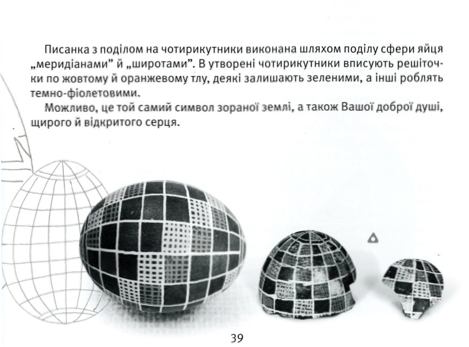 All in all, an interesting little book, worth a look.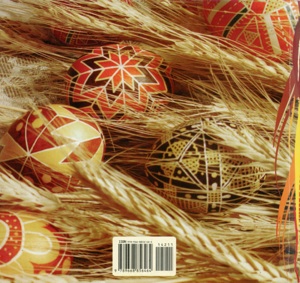 Back to MAIN Писанка Books home page.

Back to MAIN Books home page.

Back to Pysanka Bibliography.