Диво-Писанка

Pysanka-Miracle

Author:  Тетяна Андріївна Дивич

Edition: 1st

Format:   softcover booklet

Pages:   24 (including cover)         

Language:  Ukrainian

Illustrations:  many, color

Publisher:  «Навчальна Книга-Богдан» (Ternopil, Ukraine, 2007)

Availability:   www.bohdan-books.com

Acquired:  Lviv bookstore

ISBN:  966-692-557-5 and 9 789666 925575

This booklet is one of several that popped up in the 2000s to address a growing interest in the art of pysankarstvo.  It is not one of the better ones, and its target audience is older children. The cover itself is emblematic of the quality–only one of the pysanky is traditional, and two aren't even pysanky–they are eggs with straw appliqué work.

The booklet begins with legends of the origin of pysanky (mostly christian), and moves on to the "types" of "pysanky"–more correctly, this would be types of decorated eggs. This is followed by a short bit on pysanka traditions (including poems), and photos of someone writing pysanky with an old fashioned pen nib (the sort once used for lettering/calligraphy).

The instructional section takes up the rest of the booklet, more or less– a page of supplies needed, and a page of photos/diagrams: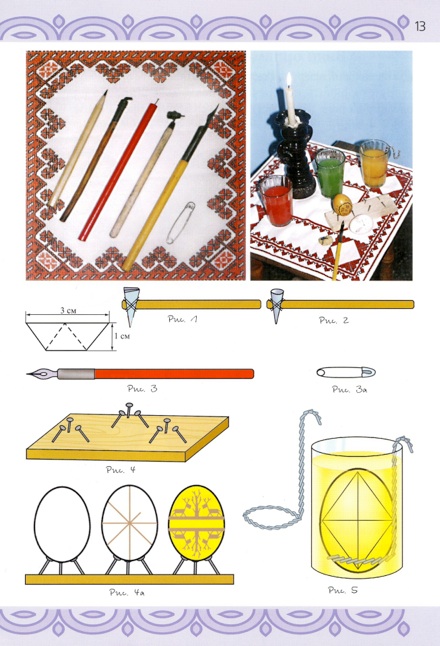 This is followed by a few basic divisions, a few simple drawings of simple pysanky and a short discussion of symbols. Step by step instructions follow for four pages, and then there is a full page of photos of "pysanky from the collection of the author"--once more, mostly nontraditional, and including all the same ones from the cover, but seen form a different view, and including a good bit of straw work (which is not discussed in the book at all).

Back to MAIN Писанка Books home page.

Back to MAIN Books home page.

Back to Pysanka Bibliography.