Двадцять Кіп Писанок

Sixty Score of Easter Eggs

Author:  Зенон Елиїв  (Zenon Elyjiw)

Edition:  1st

Format: Hardcover

Pages:  31 text + plates          

Language:  Ukrainian and English

Illustrations:  75 color plates

Publisher: Self Published (Rochester NY, 1994)

Availability:  Out of Print, used copies sometimes available on line

Acquired: EKO Gallery (Warren, MI)

ISBN:   N/A

If I could own only two books about pysanky, this would be one of them*. This incredible book is the life's work of Mr. Zenon Elyjiw, and it introduced me, as no previous book had, to the traditional Ukrainian pysanka.  Prior to its publication, there was very little available in the English language on this subject, and what little had been published in Ukrainian was out of print and difficult to find.

Mr. Elyjiw's book is scholarly but accessible.  It is not totally bilingual; the forward and some descriptions are provided both in Ukrainian and English, but the index and the place names are in Ukrainian only.  Interestingly, the English forward is not an exact translation of the Ukrainian.

The two indexes in this book allow you to search for pysanky by place of origin ( a mix of oblasts and ethnographic designations) and by the name of the pysanka

The highlight of the book, though, is the plates.  There are 75 of them, with 16 individual photos on each in full color, representing almost 1200 individual pysanky (a few of the pysanky are presented in more than one view, as in the plate of pysanky from Sokal below).  The eggs are numbered, and, underneath is group of four, Elyjiw has noted the name of each pysanka, and the village and regions it comes from (if known).  He uses a mixture of types of place names, some modern, others older (e.g. pobut), some geopolitical (oblast), others ethnographic regions. 

In a homage to Kulzhynsky, who published the first large collection of Ukrainian pysanky in 1899, he has arranged the eggs on his plates in a similar manner: four rows of four.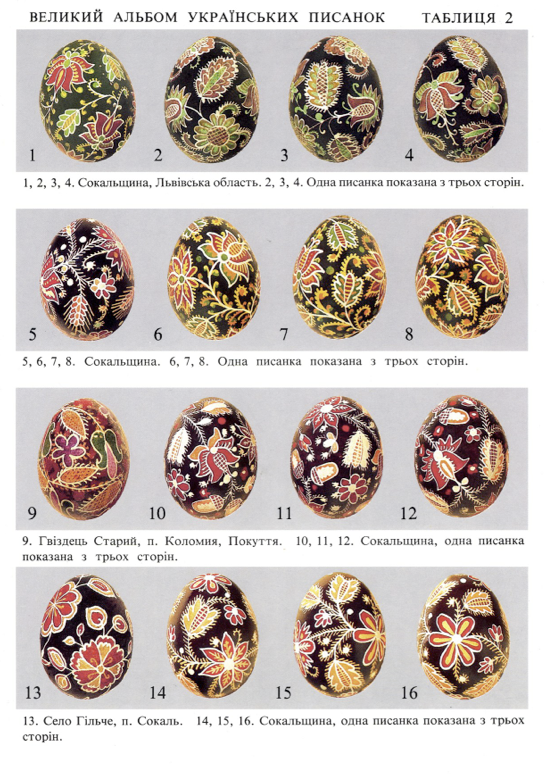 A sample plate showing pysanky from the Sokal region

The eggs in this book are, for the most part, traditional.  Elyjiw himself has labelled about 10% of them as being "diasporan," which he defines as pysanky which are probably traditional, but were written in the diaspora and have no established provenance.

He does not include pysanky which are obviously non-traditional, except for his final plate.  Plate 75 shows 11 pysanky by Iryna Bilianska, born in 1899 in the village of Horodylovychi in the Sokal region, who wrote pysanky from the 1920s to the 1960s.  She wrote fantastic floral pysanky (and some with patriotic themes), in a unique freehand manner.  Some of her work is reminiscent of Venetian millefiori glass.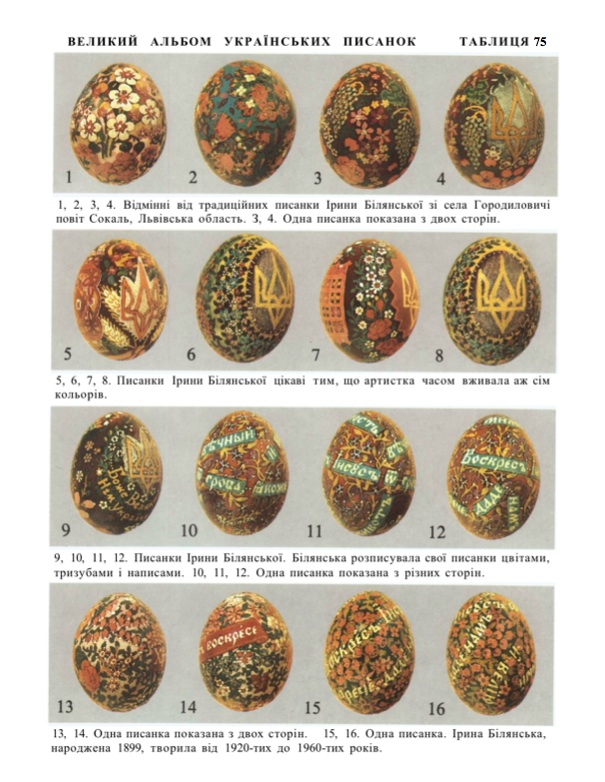 I began writing pysanky from this book as soon as I bought it, and continue to do so, many different patterns each year.  It is a book worth owning, and I cherish my copy very much.

As this book is out of print and not readily available, you can download and view a low quality DjVu version of this book on line through the Ukrainian Diasporan Electronic Library here.

__________

*   The other would be Vira Manko's The Ukrainian Folk Pysanka.

Back to MAIN Писанка Books home page.

Back to MAIN Books home page.

Back to Pysanka Bibliography.