Школа Писанкарсква

School of Pysankarstvo

Author:  Оксана Білоус та Зоя Сташук

Edition: 3rd

Format:  Large softcover

Pages:  44          

Language:  Ukrainian

Illustrations:  4 color plates, BW drawings

Publisher:  РВЦ КПДЮ (Kyiv, 2008)

Availability:  Yes

Acquired:  Cherry Ukrainian Art

ISBN:  NA

Many years ago, in the early 2000s, I purchased several copies of the first version of "School of Pysankarstvo."  It was a simple booklet, black and white xeroxed pages.  I gave the copies away to teachers from the inernaty (orphanage schools) who came to our summer camps in the Carpathians, where I taught them and their charges pysankarstvo. The book comprised a series of thirty lessons meant to teach basic concepts of pysankarstvo and ethnographic knowledge of pysanky, suitable for use in schools and long term classes.  This book is an updated version of that original booklet, on higher quality paper and improved graphics.

Below is Lesson 21, learning about the pysanky of the Chernihiv region.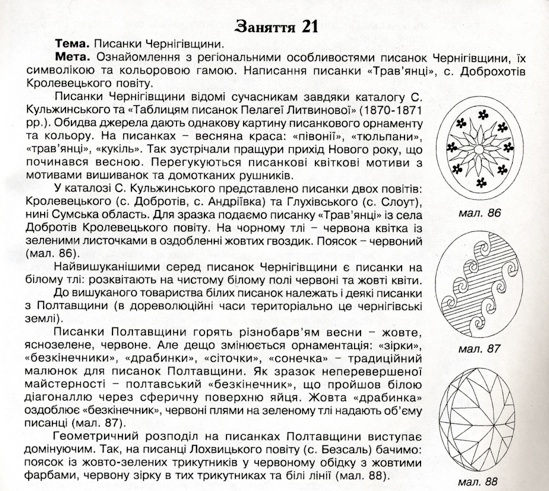 The other lessons can be categorized thusly:

1.  Pysanky and Ukrainian egg ornamentation

2.  Symbolism of color.

3-18.  Various symbols.

19-28.  Pysanky of various ethnographic regions

29-30.  Creating doves, gerdans and other objects from pysanky
There is also a section of helpful handouts that can be copied and shared with students, including 12 pages of symbols, which I have utilized in my summer camp classes.  They include examples of various common symbols: "Fire" symbols–sun, star, ruzha, triquetrum, cross, svarha; "Water" symbols–bezkonnechnyks, fish, spirals, sigma, rakes; "Fertility" symbols–berehynia, tree of life/vazon, rhombs, X cross; "Plant" symbols; "Animal" symbols–deer, horses, birds, crayfish/butterfly, braran/ram, animal parts; "Christian" and embodied symbols–churches/towers, hand of god, ox eye, reshitka (sieve), arrow.  There is also an illustration of nine basic pysanka divisions, and an ethnographic map of Ukraine.

This is an example of the section on pysanka symbols (Christian and embodied):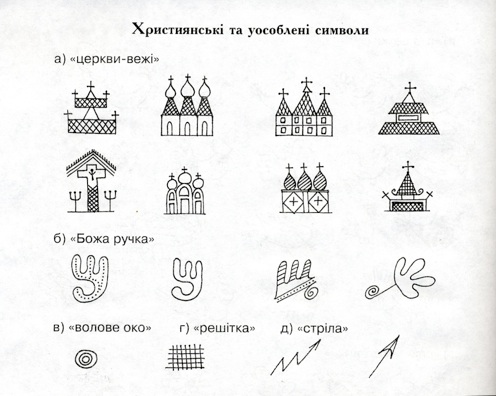 Most obviously different from earlier editions is the addition of a set of 4 color plates, depicting traditional pysanka symbols on Ukrainian folk pysanky.  The symbols are listed across the top; examples are given with their place of origin: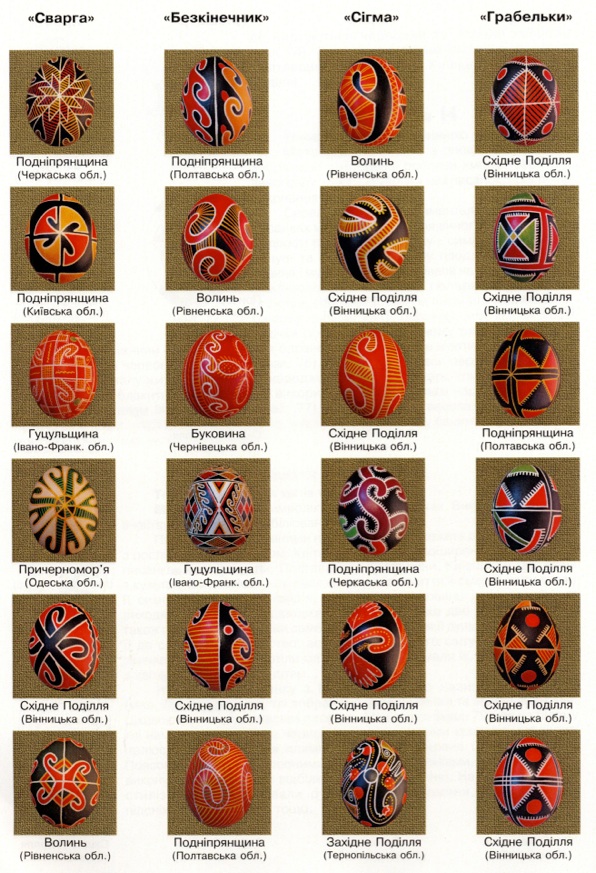 One of the four color plates

It is a useful little book for pysanka teachers; the handouts are useful for classes, the lessons a good template for teaching, and the color plates are a nice addition to any pysankarka's collection of traditional designs.

Back to MAIN Писанка Books home page.

Back to MAIN Books home page.

Back to Pysanka Bibliography.